Tuesday, October 8th @ 1p - Hobby Lobby
Friday, September 11th @ 4.30 - Hobby Lobby
Fall is here!  It's raining and the leaves are changing color.  The nights are becoming colder... it must be Fall.  What do you think about this week's projects:
Fall Floating Frame Card:
A few months ago we made a floating frame card using butterflies and/or manly gears.  It was quite a card, worthy of showing off.  This card was shared by my friend Tina. I think it's perfect for a project this week.  It's so pretty and the colors are nice!

Halloween Card:
Halloween cards, do you send them?  It's funny, each year I seem to want to skip making cards... until I hear an excited stamper happily anticipating what we will make.  That's what reminds me to get busy and make at least one Halloween Card.  With that thought, I didn't prepare and buy any new Halloween products and have nothing to work with...  pout...  SO, I look thru the catalog and get at least something.  
Something changes once the ink hits the paper...  I luv luv luv the projects and want to make more!  
Looking at these pictures, do you see why?  
When my kids went Trick or Treating it WAS all about the candy!  Us parents toted along a kiddy wagon (including a side door and 2 mini kiddy bench seats) and kindly offered to lighten their candy load by dumping it into a bucket that sat on their bench seat.  They would race off (with an empty lightweight candy bag) from house to house as we pulled the wagon and chatted with other parents.  Candy, well... we had to test it.  What's your favorite?  

This guy, doesn't he look like the curator in an art gallery... just with unique taste?  

I think this monster is a little boy.  Don't all little boys want to smoosh pumpkin?  
Remember how I mention my hesitance to buy Halloween product?  I bought one set (the tags set) and decided that would be enough.  Then Cris bought these adorable monsters and I had to buy that set.  Okay, two sets should make some really cute cards, right?  Well...  no.  BUT Paper Pumpkin came to my rescue!  I used stamps included in the September Paper Pumpkin (skeletons, skull, tiny words...) which work perfectly as a spooky background.  

Flash back 20+ years... remember that dancing baby video?  Do these skeletons remind you of that video?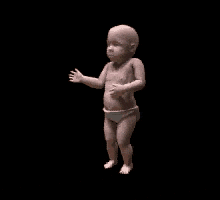 I hope to see you this week!
Happy Stampin,
www.jillibling.com
youtube: search jillibling